We are an authorized distributor of Biofreeze. Biofreeze is a pain relieving product that comes in gel, roll-on, and spray options.
Biofreeze offers temporary relief of minor aches and pains related to:
back pain
arthritis pain
shoulder & neck pain
joint & leg pain
muscle sprains & strains
Biofreeze products relieve pain by using cold therapy. This long lasting, deep penetrating pain relief can last up to several hours. Pain-free muscles heal faster.
---
Therapeutic Pillows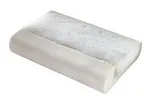 Pillo-Pedic pillow helps provide proper neck support for both back-and-side lying sleep postures and helps the adjustments last longer. It is made of a non-allgergenic polyurethane and polyster fiber.
---
LEG SPACERS

Designed to help relieve pressure and strain on the lower back, knees and ankles.
The hourglass shape fits between your legs and moves with you when you turn over.
Straps are not needed.
---
LUMBAR SUPPORTS